3M MPro150 Pocket Projector
Andrew decided to buy himself a tiny 3M MPro150 projector.

It isn't just a projector as it can directly display several media types. We tried PDF, Powerpoint, JPEGs and even an XVID video and all worked fine. The rendering of the PDFs was a little slow at points and it can overflow its memory if you supply something very heavy. The video worked fine and even played the audio on its speakers.
The tech specs are quite nice. Uses micro SD cards, although it also has 1GB on board. It can be connected to the PC using a mini USB socket and looks like two media storage drives (one on board and one for the mico SD), so no drivers needed. Only 640×480 but that's fine for video and presentations. The 150 model can also be driven directly from over VGA or component cables (the 120 model is cheaper but can't do this). And the on board battery apparently lasts about two hours which is enough to give a presentation or watch a movie.
It does have its ugly side though. At 15 lumens, it really isn't very bright. In a normal room, you will be able to watch videos, but editing text is a lot more difficult. I'm not sure there are many situations where you want a tiny projector, yet have full control over the lights. Secondly it has a fan. It's not that noisy, but I have an epic hatred of moving parts. And finally there is the price-tag of £350.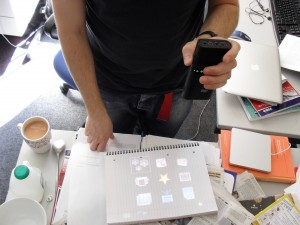 So, yeah it is pricey and probably not that practical, but it is just a bit of fun.