TexMex evening
Sorry about the delay but, finally, here are some photos from the TexMex evening.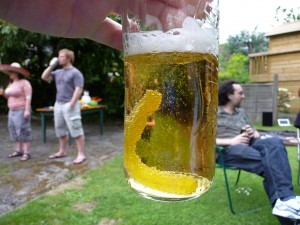 You know it is going to be a silly night when your drinks acquire worms from the very first bottle.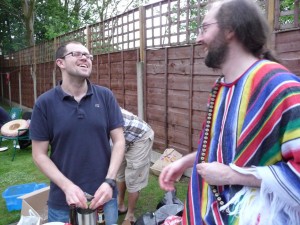 Will proudly placed himself in charge of making the margaritas. These were incredibly strong (and personally quite horrid).  Strange that we managed to get though three bottles of tequila, yet we still had plenty of limes. I suspect Will was not sticking to the correct measures.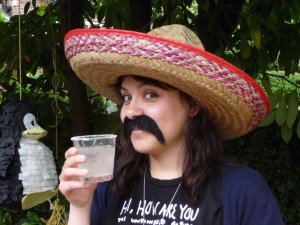 But still he managed to find a steady stream of willing victims.
And the there was the Tux piñata.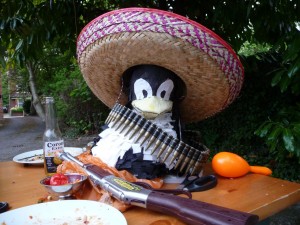 Tux will be remembered for his bravery in the revolutionary cause (and for sharing his sweets).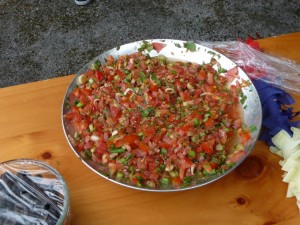 But the point of the night was the food. Lots of it. This is just one of the many bowls of salsa I spent four hours chopping.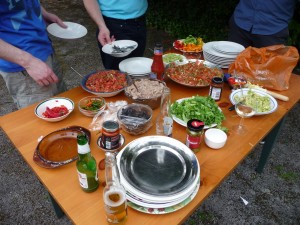 This is only about half the food items. Shame I have no photos of the table when full as it was literally brimming with food. This was the first course of wraps and tacos.
This was followed by chili con carne (two types), expertly carried by Mai Anh (who also deserves thanks for helping me make the guacamole too).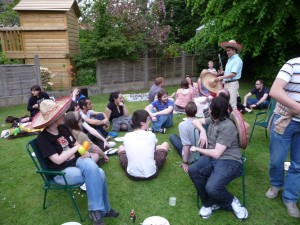 All together there were 35 people there which is a personal record. I even invited some of the better students round to try and bully them into doing something amazing over the summer.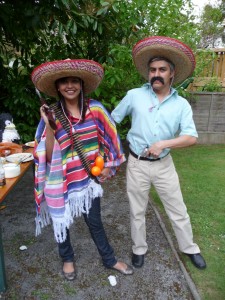 Here is a misbehaving pair of banditos.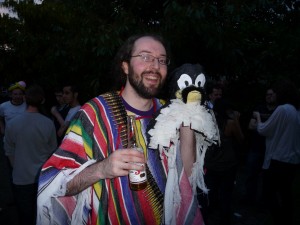 Sadly this was a photo taken while I was carrying Tux to the bin for his un-ceremonial funeral.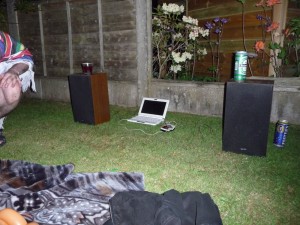 The brave little lappy managed to play Mariachi music for some 5 hours without dying (note the Dynamplifier).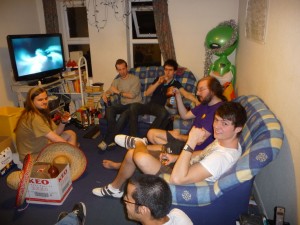 And the final course was the nachos, which were indoors as it was very dark outside by that hour. Because we run out of salsa I (foolishly considering the drinks Will forced me to have) decided to chop up some more. Thanks to John for taking that job over while I tried to stem the bleeding.