The snow outside is finally melting. This inspired me to make some melting snowmen cookies. Since I was talking to a Calvin and Hobbes fan recently, they are "prophets of doom" themed. First step: cookie dough. Sugar, margarine, flour.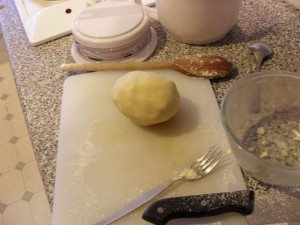 Chill in fridge till a bit more solid and slice-able.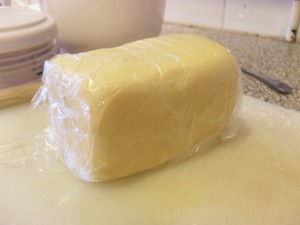 Cut into slices (I was attempting some non-round cookies), and cook in the oven for about 12 minutes. Don't put them as close together as I did here because they will merge.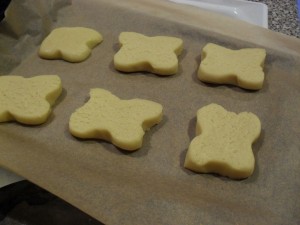 I forgot to take photos for a bit, but it is pretty simple. Make some icing. Make a separate tiny ball of icing with orange food colouring (3 drops yellow + 1 drop red). Turn the orange icing into small cone shapes in your fingers. Cover a cookie with icing apart from an area where you place two stacked white marshmallows. Place in microwave for about 12-15 seconds until the marshmallows start melting. Take out, dip the flat end of the orange cone in the now melty icing and attach to the head.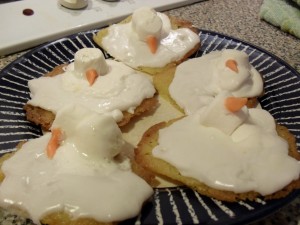 Take a tiny bit of left over icing and add a few drops of black colouring. Use a cocktail stick to twirl up a ball and deposit it for the eyes and buttons. For the hands, I drew then by dipping the stick into the colouring. In the background you can see the originals from the comic.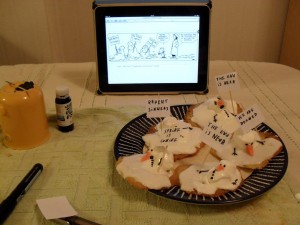 Add some pieces of paper taped to cocktail sticks and there you go.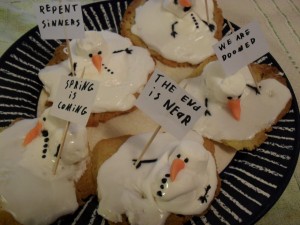 Happy winter thaw.