Following the success of the Indian night. I am hosting a TexMex party.As the party invitation points out "I have never been to Mexico, but I have been to Texico and I have watched a lot of Speedy Gonzales, so I imagine it is a bit like that". So apparently one thing people have at Mexican parties is a piñata. I have never seen a piñata in real life so this is completely guess work as to how to make it.
The body is make of papier-mâché. I was hoping to a baloon the exact right shape, but instead I had to go for a large balloon for the body, and a second balloon for the head. I covered the body balloon from all sides but the base, then turned it upside down and placed the smaller balloon on top and started placing more and more paper strips to stick the two baloons together. You really need three hands for this task.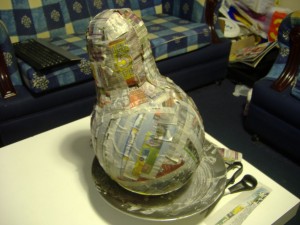 After the first layer, I let it dry in front of a fan for a couple hours before adding the second layer including a beak make of card. There were 3 layers all together. I used the flour water glue mixture, of which the second batch worked a lot better as it was a bit thicker. This is the end of day one, as it then takes about 24 hours to dry completely.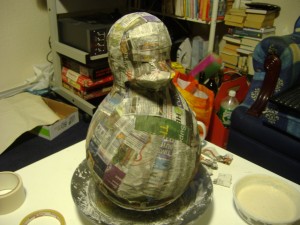 Then it is onto the crate paper. I found the easiest way was to get a full folded roll of the paper, cut it lengthwise into two and add cuts to make the loops. Then draw a line of liquid paper glue and stick the strip to it.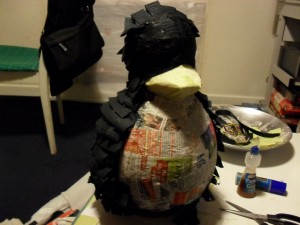 Work from the bottom up, otherwise each strip gets in the way of the last. Also I kept some areas fur free, in the bottom and the face. Here I glued a single layer of black crate paper. For the beak, that needed about three layers to not show the text under it.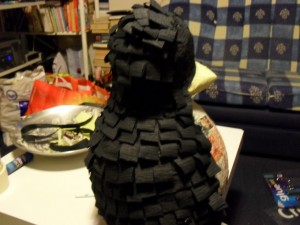 At this point, I did the surgery to add fill the penguin and attach the rope. I was worried that the rope would just rip the head apart, so I tied it to a pencil and fed it though a hole in a CD. That distributed the force around a ring in the head. At one point the back caved in a little, but with the weight of the sweets inside, it was possible to push it back out.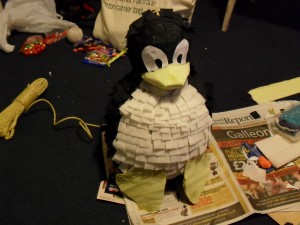 Then finally, attach the wings and feet. I punched two holes in the body and the wing/foot and used coloured cable ties. These work very well as you can trim them off.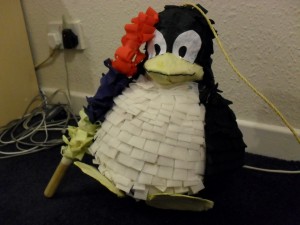 Add a decorated hitting stick, and there you go, a Tux piñata. I'll shall see tomorrow if it works.