A few days ago, I noticed the characteristic smell of popped capacitors. I took the side off my case and noticed a couple of the caps were bulging. Because I am leaving in a couple months anyway, I thought "meh" as it should survive till I leave. I took the side off to keep an eye on the caps to see if more will pop.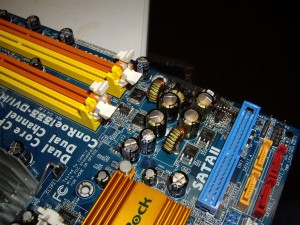 Yesterday I came into the office and noticed the computer was off. Confused, I turned it on and walked away to hang up me fleece turned around to find blooms of smoke spewing from the machine. I ran over to find flames inside the machine. Panicking, I unplugged it and started blowing out the flames. Luckily that worked and I didn't have to email the emergency services.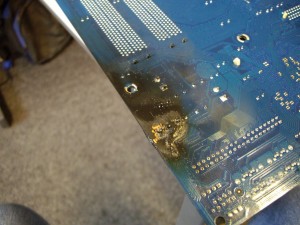 It all seems to be concentrated around an inductor, although I suspect one of the caps popped its bottom cover and started spewing hydrogen.
So the first task of the day was to do through the purchase order process to get a replacement motherboard, although the case is also somewhat smoke damaged too. The office also smells really bad of caustic fumes.