Asked Andrew to bring his camera, but was so busy cooking that I forgot to ask him to take photos of the food. As usual, the starters were the easiest part of the meal to make, and the part most people liked (Bruschetta and other things on toasted breads). Here is the holly I nicked from someone's overgrown hedge (no damage done, I promise).
I was quite impressed with this years Christmas beard that I grew. Looking forward to Jan 1st to shave it all off though, it is very annoying now.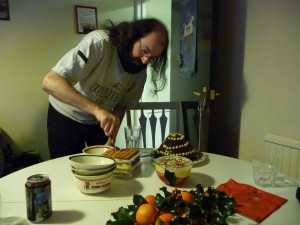 Here is Basab and Luis in the background. There were just 6 of us this year, about a third of what we had last year.